Ghaziabad Map
Ghaziabad is an industrial city situated close to the National Capital Territory of Delhi, the capital of India. Located administratively in the Indian state of Uttar Pradesh, the city is one among the four cities developed as the National Capital Region of Delhi. The other three are Gurgaon, Faridabad and Noida. The neighboring regions of Ghaziabad include Meerut on the north, Bulandshahar and Gautambudh Nagar on the south, Jyotibaphule Nagar on the east and Delhi on the south west. Popularly known as the Gateway of Uttar Pradesh, Ghaziabad is the first city that comes in the way while moving into the state from Delhi.

An integral part of the Meerut district during the British Raj, Ghaziabad was separated and given the status of a new district post independence. The city of Ghaziabad was made the headquarters of the new district. After getting the NCR status during the nineties of the last century, the city witnessed a big residential boom, which have seen the construction of a number of high-rise apartment buildings and housing complexes.

Alongside, Ghaziabad also a number of malls and multiplexes dotting the city. In recent times, the city of Ghaziabad has emerged as an ideal destination for people seeking home fully equipped with high-quality amenities and surrounded by peaceful location away from the cacophony of Delhi metropolitan area. The commercial activities within the district area include manufacturing of railway coaches, diesel engines, glassware, bicycles, pottery, varnish, paint, heavy chains etc. The city is providing an industrial base to a number of reputed companies including Dabur, Shriram Pistons, Bhushan Steels, Unichem, Rathi Alloys, International Tobeco and Samtel Color.
Know more with a map of Ghaziabad showing information related to district boundaries, land areas, networks of roads, important places and many more.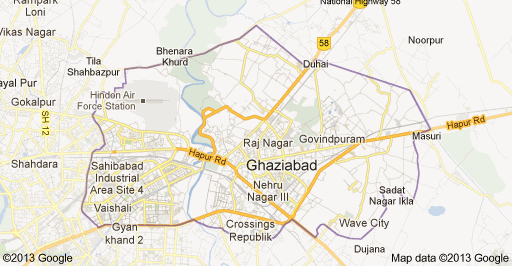 Comments for this URL:
---
'; echo $row['comment_text'].'

'; $i++; } mysql_close($db); } ?>